Testatika demonstration with over 30 engineers
translation by Stefan Hartmann and Hans Holzherr on 4th of Aug. 99
Recently, over 30 technicians and engineers (most of them retired) were allowed to visit the Methernitha group in Linden, Switzerland, where they witnessed a demo of the different Testatika machines.
Here is a report from Hans Holzherr from Switzerland who was present:
Re: Testatika demonstration?
From: Hans Holzherr
To: Stefan Hartmann < harti@harti.com >
Hello Mr. Hartmann,
To your questions:
> Have you seen live a machine with a load?
> If so, what load?
I am referring in the following to the model with the 50-cm diameter disks. This
machine was already running when the visitors stepped into the room, and was not halted
during the whole time - we were there for about 1.5 hrs. As a first load a 1000-Watt lamp was connected for approximately 10 seconds whose brightness did NOT diminish - the corresponding sequence on the Testatika film is just an effect of the camera aperture's automatic adjusting to the sudden brightness! The second load was a U-shaped heating element, that Mr.Baumann handed to me. It became so hot within one second that I had to put it down immediately! What was particularly impressive was that while he pulled back one of the contact wires (that was with the lamp, I believe), a 1-cm long arc appeared between the output electrode and the connecting wire for approximately one second. The apparatus was under a plexiglass hood. Near the base it had two holes which Baumann used to insert the contact wires to touch the output electrodes.
> How do you think the high wattage is produced ?
Good question! I'd love to know the answer, too!
> Did the disks slow down when a load was placed across the output electrodes ?
I did not notice that (nobody else did), but of course you tend to turn your look to 'where the action is' (the lamp etc.) The disks turned with 15 rpm, which is quite slow. The spin rate was regulated magnetically.
> What general impression did you have ?
It was really impressive! One can hardly believe it, with this slow rotation. In any case, this cannot be explained in terms of bare electrostatics in the sense of the Wimshurst machine. The perforated sheets seem to have a key function... Beside the pick-up and the drive electrodes there are a number of small plexiglass blocks with glued-on perforated sheets, whose function is unknown.
As Adolf Schneider already mentioned, my colleague Bernhard XXX and I want to try to copy the principle experiment shown by Baumann - without much hope to find anything extraordinary, though.
The device consists of a horizontal swiveling plexiglass arm with a small rectangular plexiglass plate at both ends glued to the lower side of the arm. The lower side of the arm is covered with perforated aluminum sheets (square holes), while the bottom of the plates is covered with brass wire mesh. Beneath each plate five additional plates are glued onto the base plate. There is also wire mesh between each pair of plates in the two blocks. From the mesh layer between the lowest plate and the base a wire goes to the two capacitors, which are connected in parallel . Baumann seized the arm with both hands and turned it about ten times back and forth (a full rotation was not possible, because the capacitors were in the way), then measured the DC voltage with a digital measuring instrument: 60 Volts. Then, as he short-circuited the condensers a loud crack could be heard. I don´t know if that already is an abnormal result...
On my question Baumann replied that with metal foil (instead of wire mesh) the device would not produce that effect.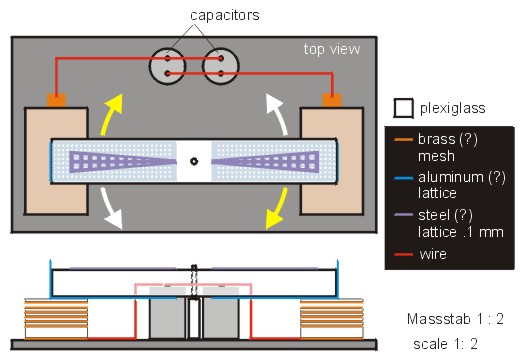 Picture copyright 1999 by Hans Holzherr
Recently we got to know a person who had copied the 50-cm machine based on the Testatika literature. However, his model does not function (is not self-running).
Re: Testatika demonstration?
to: Stefan Hartmann < harti@harti.com >
Hello Mr. Hartmann,
here are further specifications to your questions:
> Did the machine ran the whole time ? 1,5 hours?
Yes.
>Could you imagine that in the base of the machine batteries of the flat
> cheque card type are hidden, or the would these be depleted too soon to account for the >power produced during that 1.5-hour period?
Unfortunately, I cannot judge that. If one considers that the Methernitha community gains neither money nor fame from the machine, and that they are so media-shy and otherwise restrictive I find the thought of a simple battery trick pretty absurd..... (Of course a skeptic might argue that they are media-shy BECAUSE it's a battery trick...)
> Could you touch the machine ? Is the base of the device empty or is there something in it,
> or is it build from massive wood?
It was forbidden to touch the 50 cm machine, let alone lift it up. Therefore I cannot say anything about the base other than that it appeared solid. BUT one could touch the smaller type models e.g. the small models with the 12 cm disks. One could lift them and examine them - while the disks kept turning. The whole atmosphere was rather loose - surprisingly. In
this regard, being a group of over 30 persons was an advantage: The two Methernitha people couldn't watch all our fingers at all times! The earliest model is, by the way, the only one whose disks are propelled by an electric motor which is driven by a capacitor which in turn is continuously recharged.
> I see, the plastic cover was for HV security ?
Also, I think it is a dust shield. The machine is really beautiful...
> Hmm, in former reports it was stated that it ran with 50 RPM!!?
I have read that, too. With this demo, however, the speed was approximately just 15 RPM.
> > there is a number of plexiglass blocks with glued-on perforated sheet, their
> > function is unknown.
>
> Aha, very strange....
>
> Are these "special antennas"?
I don´t know. Some have perforated sheets glued on two opposite sides, so they could be condensers; others have only one perforated sheet which is bent over an edge of the plexiglass block, so it covers two adjacent sides.
After my visit I made a diagram of the ' principle experiment' - see
the picture above!
> Hmm, was that another device, or was that just a briefly modified existing machine??
Another device! Baumann's comment: this is how it all started!
>>Recently we got to know a person, who had copied the 50-cm machine based on the >>Testatika literature. However, this model does not function (is not self-running).
> Yes a pure Wimhusrt machine will probably not even run itself,
> if one does not know the Methernitha secrets
I saw a photo from this copied device, and at first sight it looked
like the original, including the horseshoe magnets.
> P.s.: May anybody know that you were at Methernitha ?
> you are the first with an "email address" to have seen that 'live' !
> Other visitors did not have internet ACCESS, it could
> be that you'll get a great many emails...
> Could I list you as a "witness" in the Free Energy lists?
Thanks for the warning! Then it will be better without email address. I am also only a witness,
without being able to prove that the thing absolutely works...
Re: Testatika demonstration?
Date: Mon, 2 August 1999 16:39:44 -0400
From: Hans XXX
to: Stefan Hartmann < harti@harti.com >
Hello Mr. Hartmann,
> Can I put the picture onto overunity.com the server?
Yes, you can.
> Should I mention your name ?
As the author of the picture.
> I will translate your emails into English and post them
> into the Free Energy lists.
Yes, perhaps I could then check the English version. Has Adolf sent you the NET Journal article about the Methernitha visit? There you find additional specifications, information that other visitors have gained. However, I find the 'yield ' of the visit report somewhat disappointing.
> I will not then mention your email address there.
O.k.
> Apparently, Mr. Baumann and Mr. Bosshardt were in a pretty informative mood that day!
Yes, you could say that. Unfortunately I had difficulties to understand Baumann because he spoke softly and fast, and provided explanations in non-scientific terms. However, it's very interesting that he answered my question, if the energy source of the Testatika was radium chloride, with a definite NO. Also, they said, there exists no other Testatika machine elsewhere. Nelson Camus had told a different story: that he had encountered a similar community in South America which was in touch with Methernitha, and which also possessed a Testatika. According to Camus the apparatus functions with radium chloride-doped condensers. That also works, but for that you don't need any moving parts! (Hubbard generator).
(from Stefan Hartmann: I really doubt this claim from Nelson Camus....!!)

> Did Methernitha have no problem to show you the "principle setup" of your above picture ?

Obviously not. They probably trust in the fact that not all secrets are VISIBLE on the machine. E.g. - it looks like - the molecular orientation of all plexiglass plates must be the same. And then the material plays a role. (we know this from a different source.)
> Don't they object against anybody copying the machine?
> Or do they think that one cannot understand the whole system quickly enough in such a demo?

No and yes, and they are probably darn right! It is hard to grasp!
> could you see the small machines with a load, too?
> how much Watts could these deliver ? Approx. 300 Watts?
> those are more simply built , right ?
With the 12 cm original model Baumann got a voltage of 130 V. He connected a load
to it, which consisted of two small lamps and a resistor. Values unknown. After that
two visitors were asked short circuit the apparatus via their bodies, which gave them an electric shock!
Interestingly enough, the digital voltmeter showed only briefly 130 Volts, and then stopped working. All following measurements, also on the 50 cm machine, were made with an analog meter. The smaller Testatikas are simpler. Each one is built a bit differently. One has only one disk. Several, including a 1-meter model under construction, have 'sector wires' instead of sector foils, which are sort of 'woven' into the disk, changing sides three times.
> Were there bifilary coils inside the Leydener bottles?
You could not see inside them. In the large capacitors there are 20 layers of perforated sheet
(Baumann said). One just cannot see inside!
> and there is a crystal diode somewhere?
Yes, it's probably the object at the top. Baumann mentioned that also.
On the original model it seemed to me to consist only of a rough coil around one
central straight wire, with a total of 4 leads. With the 50-cm apparatus I tried my best but could only make out 2 supply wires, so the structure was not very clear, maybe also a rough spiral around something (tube from perforated sheet?); perhaps there was also a tube around everything (my memory has faded), but I could not detect a crystal. I remember that it was hard to see inside. Regarding visibility in general, I noticed that a thin layer (which might be a lead) between two plexiglass plates is hardly noticeable at all, because of the total light reflection.
MfG
Hans Holzherr


---
check out the webmasters original article on the swiss ml
Some interesting comments and ideas on the Free energy machine Swiss ML or Testatika Thestica Distakica

other pages concerning the Testatika in this series.
---
---
Encyclopedia of free energy now on CD click for more information