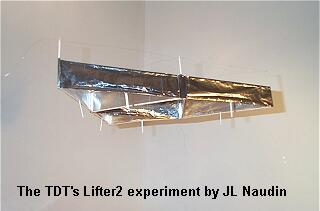 The Transdimensional's Lifter2 Experiment
By Jean-Louis Naudin
created on October 10th, 2001 - JLN Labs - Last update October 16th, 2001
All informations in this page are published free and are intended for private/educational purposes and not for commercial applications
---
On June 2001, Transdimensional Technologies has presented the Lifter1 and Lifter2 devices. The Lifter1 device was built with three capacitors joined so as to form a triangle assembly and the Lifter2 is three time heavier and three time bigger than the Lifter1. These devices are able to lift their own weight and they are a "modern version" of the Townsend Brown Electrokinetic Apparatus. The Lifters are using the Biefeld-Brown Effect to generate the main thrust to self levitate. I have already built some similar devices in April 1999, see "The EHD Flying Saucer v1.0 ".
Today, I have replicated successfully the Transdimensional Power3 Lifter1 and Lifter2. You will find below the full details of the Lifter2 replication that I have conducted.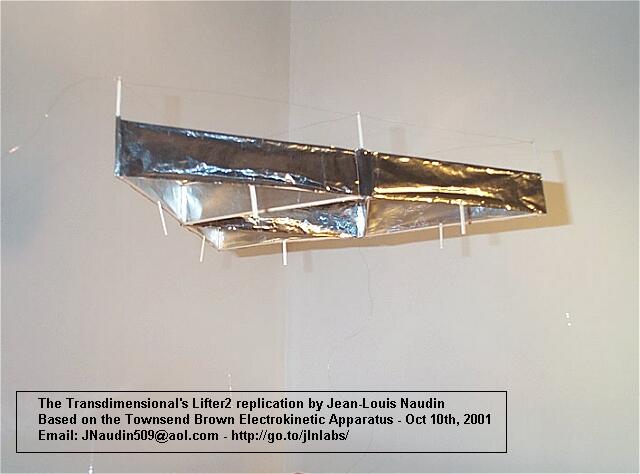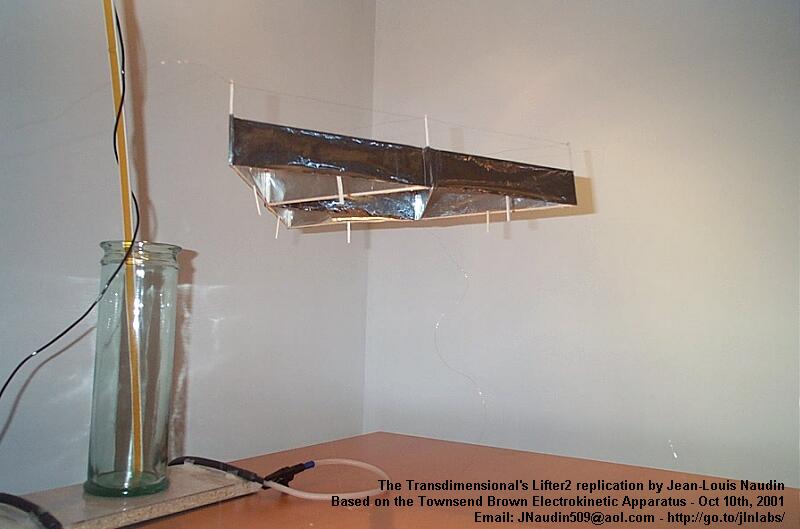 The Lifter2 is maintained on the ground base with 3 thin nylon threads to avoid that it escapes to the ceiling...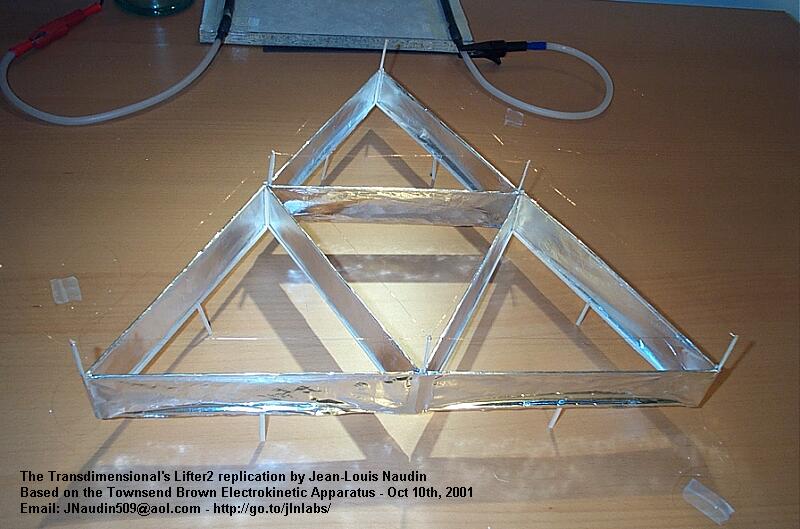 The Lifter2 specifications
The Lifter2 is an asymmetrical capacitor with one electrode made with a thin corona wire placed at 30 mm from the main rectangular electrode constructed "ala" Townsend Brown.
Weight : 6.6 g

Main Triangle size : Equilateral with each side 400 mm wide and 40 mm high made with a thin aluminum sheet.

Mounting legs : 30 mm length.

Main frame : balsa wood 15/10 mm thick and 2 mm wide.

Power required to compensate the weight : 21.9 Watts ( 38.5KV @ 570 uA )

Power required for a stable flight above the ground with a payload of 3 g : 48.5 Watts ( 43.35 KV @ 1.12mA )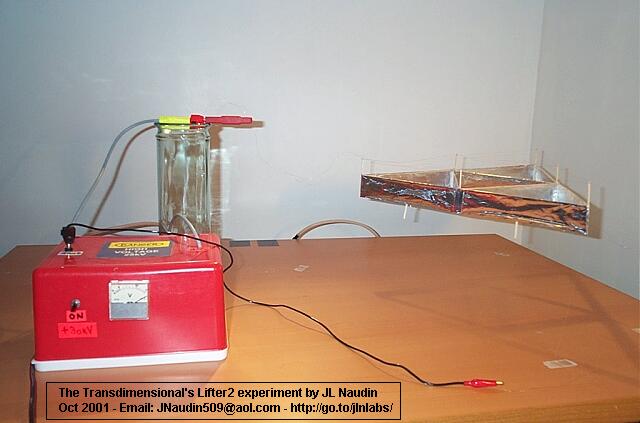 The Lifter2 works very well with a simple 30KV power supply ( see the details and diagram )
See the video of Lifter2 experiment
To see the videos, the free downloadable RealPlayer is required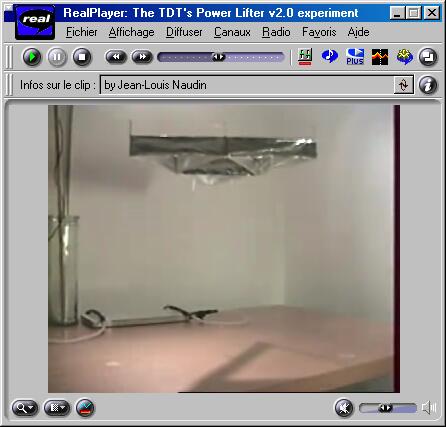 Click on the picture above to see the video ( 465 Kb )
Lifter2 Test Results : Today I have reproduced successfully the Lifter2 device presented by Transdimensional Technologies and I can confirm fully all their claims. The Lifter2 is a fascinating device, the resulting lift is stronger than the Lifter1 ( 150% ) and the it is able to accelerate upwards very quickly and silently. The Lifter2 has a weight of 6.6 g and is able to carry a payload up to 3 g with 48.6 Watts.
Comparison chart :
| | | | | |
| --- | --- | --- | --- | --- |
| | Weight | Payload | Power to compensate the weight | Power for a stable flight |
| Lifter 1 | 2.3 g | 1 g | 18 Watts ( 40 KV @ 450 uA ) | 23.9 Watts ( 41.9 KV @ 570 uA ) |
| Lifter 2 | 6.6 g | 3 g | 21.9 Watts ( 38.5KV @ 570 uA ) | 48.5 Watts ( 43.35 KV @ 1.12mA ) |
See Also :
Documents references :
The Transdimensional Technologies web site

"Electrogravitics Systems" ( Report on a new propulsion methodology) by Thomas Valone - ISBN 0-9641070-0-7

" Subquantum Kinetics " by Paul A. LaViolette - ISBN 0-9642025-0-6

" L'Effet Biefeld-Brown - Histoire secrète de l'antigravité - Vol 1 "by Alexandre Szames - ISBN 2-91377-01-7

Electrokinetics brown by Paul E. Potter

US Patent N°2949550 filed on Aug 16, 1960 "Elektrokinetic Apparatus" from Thomas Townsend Brown

The Thomas Townsend Brown dedicated web site
---

Email : JNaudin509@aol.com
---
Return to the Lifters Experiments page