Assembly
Now is the time to assemble the generator. Lay down the large PVC sheet, and place the lower compartment on its edge at the edge of the PVC sheet. Curl one end of the PVC sheet around the round compartment assembly, align the outer edge of the sheet with the undersurface of the wooden disk of the compartment, as in figure [10]. Screw at the marked locations 1 and 2 two screws through the sheet, in the edge of the wooden disk. Screw 1 must be about 50mm from the end of the sheet, for the smaller sheet to fit in later on. Take care when screwing in the two screws, that the edge of the sheet remains aligned with the disk undersurface. Also note the proper orientation of the pvc sheet, roll the compartment assembly along the shorter edge of the sheet (1000mm). This way the sheet won't run all way round the compartment assembly, thus in the right way to leave open the generator front opening.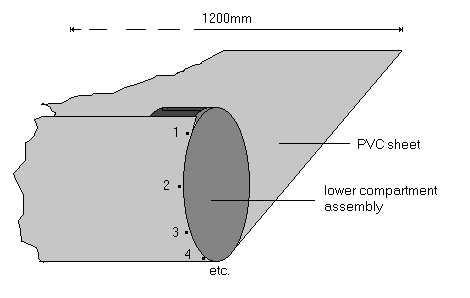 Figure [10]
Don't screw in the other screws - yet, just the screws 1 and 2. Now roll the sheet around the compartment and temporarily put tape all around so the sheet doesn't unroll. Next, take the upper compartment assembly, and put it in place. Rotate the thing so that the hole in the upper disk (for the air blower tube) is about 100mm at the left of the left edge of the front opening, as in figure [11].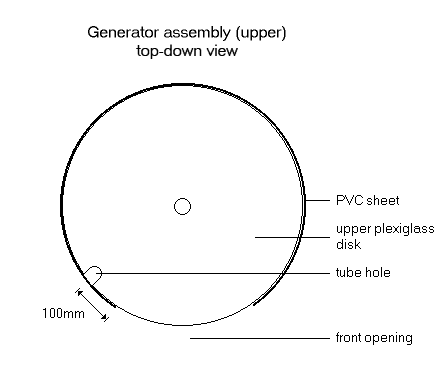 Figure [11]
Next, fasten the upper compartment assembly with two screws at the same positions as at the lower compartment assembly, and tape around again, you now have something like in figure [12]: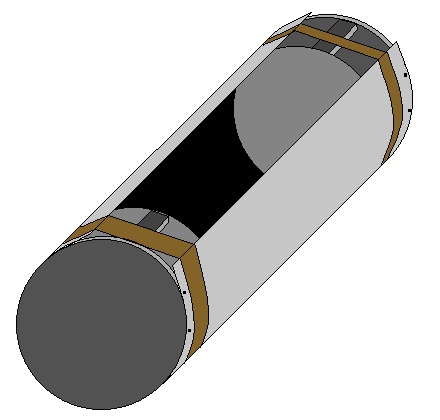 Figure [12]
Now you can fasten all other screws around the edges of the sheet, and when done remove the tape. Make sure the edges stay lined up exactly along the surfaces of the wooden disks, and don't screw down the ends of the sheet at the opening, yet.
Next take the two smaller PVC sheets, and insert these under the edge of the large sheet over the gap still at the compartments (above and below the generator's front opening). Use the smaller sheet for the upper part (sheet 300mm x 175mm). See figure [13]. Still do not screw down the corners of the large sheet. Fasten the small sheet with two screws 1 and 2 in the wooden disks, as shown in figure [13].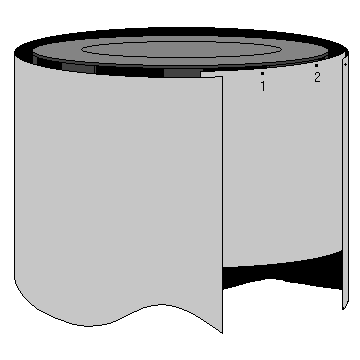 Figure [13]
Proceed in the same way with the lower sheet (300mm x 250mm).
You'll end up with something looking like figure [14]: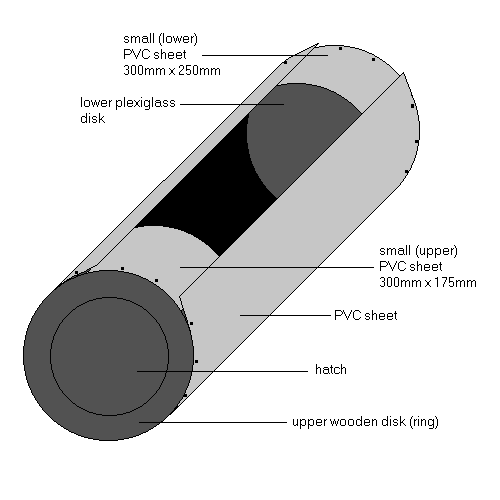 Figure [14]